History of Lehigh Pizza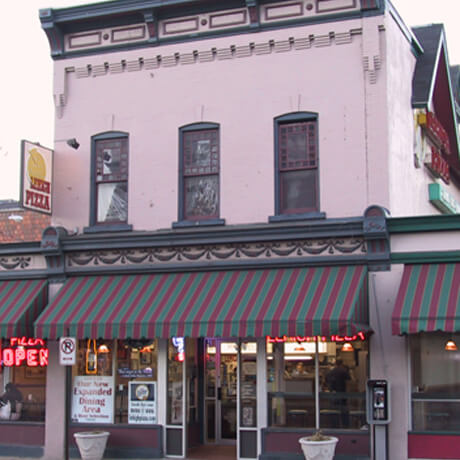 The Lioudis and Gouvalis Families have been running Lehigh Pizza at its current location (the corner of 3rd and New St.) since October, 1996. We expanded our menu trifold in that time.
We expanded our Dining Room and Kitchen in 2003. We also expanded our delivery areas to include most of Bethlehem, Fountain Hill, Freemansburg and parts of Lower Saucon. We have always been a reliable and friendly source of good, reasonably priced food to local residents, students and employees of the local businesses, schools and hospitals. We have seen Bethlehem's south side transform from a beaten down, sparsely occupied community into a bustling downtown that has become famous for the arts. Lehigh Pizza's past goes beyond 1996.It has been in the family since 1975 when a closed up diner at the corner of 4th St and Broadway was converted into Lehigh Pizza. Our Father-in-law, Mr. Stavros Sfaelos, owned and continuously operated Lehigh Pizza from 1976 to 1996 at that location.
Back then it also was a favorite for southside locals, Lehigh University Students and Faculty and employees of the area including workers of The Globe Times and Bethlehem Steel.
Mr. Sfaelos however witnessed the opposite transformation of our city. He witnessed the decline of the 'steel' and the subsequent abandonment of many businesses in our community. Through that decline, though, he maintained a prosperous business by treating his customers with respect and fairness and providing quality food at a fair price.We are very proud of our Bethlehem community and happy to be part of this wonderful city. We pride ourselves in always treating all our customers with respect and we strive to help the southside continue to flourish by being active and helping our local community any way we can.